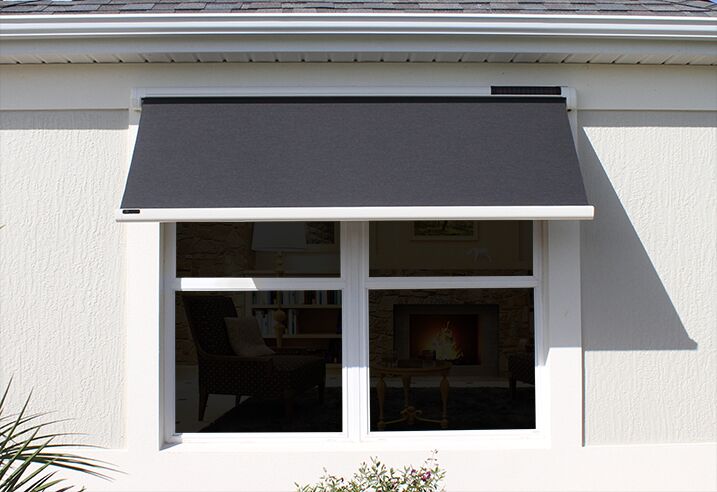 Window awnings from Sol-Lux automatically extend to block harmful sun rays from your home without blocking your view.
Windows bring beauty into our homes, but they also bring in heat, glare, and sun damage. As the sun hits your windows the awnings extend automatically. When the sun goes down, or as it gets cold outside, the awnings automatically retract so they're only out when you need them for maximum energy efficiency. In high winds, the awnings close all by themselves, even when you're not home! Plus they use free solar power, so there's no need to connect to your electricity. Which means they can be installed easily and quickly on any window in your home with no need for an expensive electrician.
SOL-LUX Features
Sol-Lux window awnings are environmentally friendly.
The awning is battery powered and charged by sunlight using the integrated solar panel. Without the need to run electrical wiring, the installation is simple!
Set it and forget it – The awning will automatically extend and retract in response to the sun. When sufficient sunlight is detected, the awning automatically extends. When the light level is low enough, the awning will retract and enclose itself inside its protective powder-coated aluminum case.
Each Sol-Lux window awning is custom made from 39″ – 120″ in width.
Awning widths can be ordered in ½" increments or in 1cm increments.
If you have multiple windows side-by-side or windows that require widths larger than 120″, you can use multiple awnings side by side to cover larger widths. Check out our how to measure page to determine what width of awning your windows require.
Beautifully delivering shade and protection precisely when it's needed.
The Sol-Lux Window Awning is the "Smartest" awning available on the market today, beautifully delivering shade and protection precisely when it's needed. The awnings function automatically by sensing the sunlight, wind, and temperature and do not require any user interaction.
By downloading the free Sol-Lux app on your smart device, you can use the app to manually control the awning and make adjustments to the default settings for automatic operations. Using Bluetooth connectivity each awning can be adjusted and controlled with the free Sol-Lux App.
The Sol-Lux awning automatically reacts to sustained motion.
The awning has a built-in motion/position sensor designed to prevent damage during periods of inclement weather. If wind or snow causes sufficient sustained motion or sagging while the awning is extended, the awning will retract automatically. The awning is also protected from sudden strong wind gusts. The gas shocks on the awnings arms act as shock absorbers allowing the canopy to billow to release the gust of wind and returning to its normal position.
Over 180 case colors and over 70 Sunbrella marine grade fabric colors.
With seemingly endless color choices, Sol-Lux awnings can be completely customized to fit the style and decor of your space. Browse color options and save your preferences to your Wish List using our online awning configurator. Then bring your wishlist to your Authorized Sol-Lux Dealer so they can review color samples with you to ensure a perfect match!
The Sol-Lux window awning monitors temperature and inclement weather.
If it's sunny but also cold outside, the awning knows to stay closed so the sun can help provide heat through the windows. You can also set the awning to operate on a daily schedule. This allows the awning to extend and retract at specific times of day every day as long as your temperature requirements are met. For example, you can set the awning to extend every morning at 7:30 am and retract every afternoon at 4:30 pm as long as the temperature of the awning is above 20 degrees.
Watch Video of our Smart Home Window Awning